Products and Solutions
We provide innovative, white-label loan origination solutions to our lenders, enabling them to help their customers pay for a college education, pay off high-interest debt, or cover other unexpected costs.
We can offer all of these products under either a Software as a Service (SaaS) or Full Service approach. Do you have an existing team? Opt to leverage our software remotely. Looking for a software platform plus customer service and loan processing resources? We can handle that too.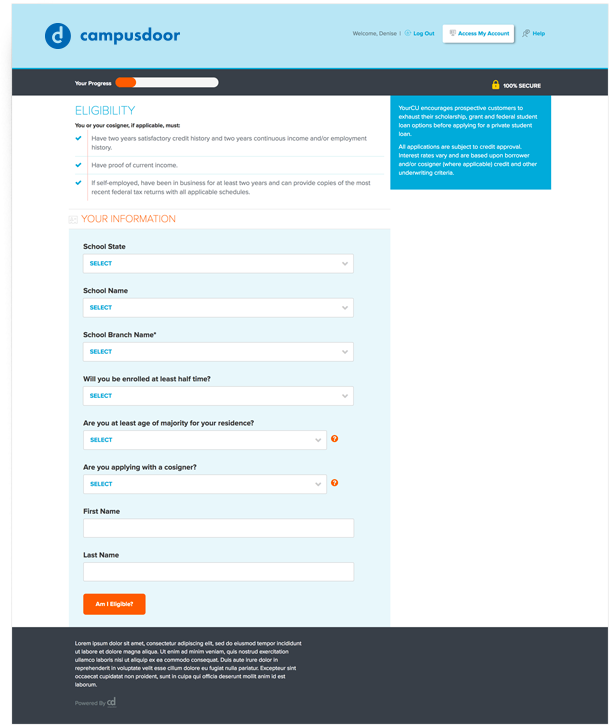 Diversify your product suite
In-School Student Loans
Offer your customers a financial tool to cover the expenses of an undergraduate, graduate, technical or non-degree education. We have the expertise to handle school-certified programs.
Refinance Loans
Provide a solution for a common challenge among graduates — student loan debt. This product will allow your customers to consolidate multiple student loans into one and refinance to achieve a lower rate and/or the convenience of a single monthly payment.
Consumer Loans
If you have customers who experience unexpected life events or who want to refinance credit card debt into one lower-rate loan, this is the perfect product to add to your suite.
Experience the difference with our lending platform
Parent Loans
Provide a product tailored to customers who have children or other dependents attending college who prefer not to burden that child or dependent with student loan debt.
Lines of Credit
A line of credit can have several forms and functions. Offer a convenient, revolving credit source for almost any need.
Employer Loan Programs
Team up with a private lender to offer your employees tuition assistance, reimbursement, or student loan refinancing. Add interest rate reductions or employer payments to enhance the benefit.
Institutional Loan Programs
Colleges and universities work with lenders, endownments, or other funding sources to create a unique, white-label product to assist qualified students with paying for the cost of an education.
Micro Loans
Prevent unexpected events from derailing students' plans. Students apply in minutes for small dollar amounts to cover lab fees or other unanticipated expenses, allowing them to stay in school and avoid leveraging higher interest rate options.
Student Loan in a Box
Meet the student loan needs of your customers without holding those assets. This marketplace offering allows bank and non-bank lenders to provide white-label in-school and refinance products without leveraging their balance sheet. Plus, we white-label the solution and have you in the market in 45 days or less!